About Us
Asia Village is a Chinese takeaway in London. Why don't you try our Hot & Sour Soup or BBQ Pork Chow Mein (Large)?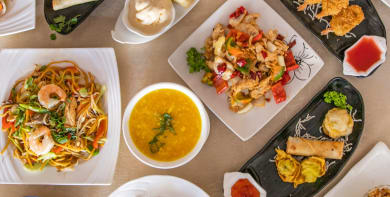 Reviews
149 reviews
Mario
"Food was delicious and well cooked. Rice and chow mien was enough to last next day. Will def order again"
31/07/2021
John
"Delivery driver was absolutely lovely. Real nice chap."
22/07/2021
Jaq
"Tasty, generous portions.👍"
17/07/2021
joseph
"very nice food thanks"
05/07/2021
Menu
Coca-Cola Original Taste 1.25L Bottle
£2.80
Coca-Cola Original Taste 330ml Can
£1.10
Dim Sum Hors D'Oeuvres
3 Har gow, 3 siu mai, 2 chives dumpling, 2 chicken bun
£12.50
Har Gow (6)
Marinated prawns in rice pastry
Crustaceans
£6.30
Siu Mai (6)
Marinated pork & prawns in egg pastry
Crustaceans
£6.30
Chicken Bun (3)
Soft white buns with diced chicken fillings
£6.50
Char Siu Buns (3)
Soft white buns with roast pork fillings
£6.50
Chives Dumpling (6)
Marinated pork & prawns in rice pastry
£6.30
Grilled Dumpling(Pork)(6)
£6.30
Mixed Hors D'Oeuvres (For 2)
Seaweed, spring rolls, sesame prawn on toast, spare ribs, satay chicken & butterfly prawn
Sesame seeds
Crustaceans
£12.00
Vegetarian Spring Rolls (10)
£3.95
Deep Fried Butterfly Prawns (8)
Crustaceans
£6.50
Sesame Prawn on Toast
Sesame seeds
Crustaceans
£6.30
Satay Chicken on Skewers (4)
Nuts
£6.30
Deep Fried Crab Claws (4)
Molluscs
£6.15
Crispy Aromatic Duck Quarter
Served with spring onions, cucumber, pancakes & hoisin sauce
£9.80
Crispy Aromatic Duck Half
Served with spring onions, cucumber, pancakes & hoisin sauce
£19.00
Thai King Prawn Rolls (6)
£7.00
Vietnamese Fun Spring Rolls (4)
Vermicelli, pork, prawn & vegetables
£6.00
Salt & Pepper King Prawns
Crustaceans
£7.20
Salt & Pepper Squid
Crustaceans
£7.20
Salt & Pepper Chicken Wings (8)
£6.35
Spicy Pepper with Chilli Chips
£3.80
Chicken Sweetcorn Soup
Eggs
£4.50
Crab Meat Sweetcorn Soup
Eggs
£4.50
Tom Yum Soup A. King Prawn
Flavoured with lemongrass, chilli, tomatoes, coriander & lemon juice
£4.80
Tom Yum Soup B. Chicken
Flavoured with lemongrass, chilli, tomatoes, coriander & lemon juice
£4.80
Spare Ribs in Black Bean Sauce
£6.55
Sweet & Sour Chicken Balls
Cereal containing gluten
£6.85
Sweet & Sour King Prawn Balls
Cereal containing gluten
Crustaceans
£7.20
Sweet & Sour Pork Balls
Cereal containing gluten
£6.55
Sweet & Sour Chicken Hong Kong Style
£6.85
Sweet & Sour Prawns Hong Kong Style
Crustaceans
£7.20
Sweet & Sour Pork Hong Kong Style
£6.55
Special Curry
Cereal containing gluten
Soya
£7.20
King Prawn Curry
Cereal containing gluten
Soya
£7.20
Lamb Curry
Cereal containing gluten
Soya
£7.00
Chicken Curry
Cereal containing gluten
Soya
£6.85
Beef Curry
Cereal containing gluten
Soya
£6.95
BBQ Pork Curry
Cereal containing gluten
Soya
£6.55
Duck Curry
Cereal containing gluten
Soya
£6.95
Mushroom Curry
Cereal containing gluten
Soya
£5.35
Vegetable Curry
Cereal containing gluten
Soya
£5.35
Kung Po King Prawns
Crustaceans
Nuts
£7.20
Crispy Shredded Chilli Chicken (Large)
Celery
£6.85
Honey Shredded Chicken (Large)
Celery
£6.85
Chicken with Mixed Vegetables
Soya
£6.85
Chicken with Cashew Nuts
Nuts
£6.85
Satay Chicken
Peanuts
Cook in sauce
£6.85
Chicken with Green Pepper in Black Bean Sauce
Soya
£6.85
Chicken in Ginger & Spring Onion
£6.85
Crispy Shredded Chilli Beef (Large)
Celery
£7.00
Honey Shredded Beef Chilli (Large)
Celery
£7.00
Beef with Mixed Vegetables
Soya
£6.95
Beef with Cashew Nuts
Nuts
£6.95
Beef with Green Pepper in Black Bean Sauce
Soya
£6.95
Beef with Ginger & Spring Onion
£6.95
Peking Style King Prawn
Crustaceans
£7.20
King Prawn with Mushroom
Crustaceans
£7.20
King Prawn with Mixed Vegetables
Crustaceans
Soya
£7.20
King Prawn with Pineapple
Crustaceans
£7.20
Szechuan King Prawn
Crustaceans
£7.20
King Prawn with Cashew Nuts
Crustaceans
Nuts
£7.20
Satay King Prawn
Crustaceans
Peanuts
£7.20
King Prawn with Green Pepper in Black Bean Sauce
Crustaceans
Soya
£7.20
King Prawn in Oyster Sauce
Crustaceans
£7.20
King Prawn with Ginger & Spring Onion
Crustaceans
£7.20
King Prawn with Broccoli
Crustaceans
£7.20
King Prawn in Garlic Sauce
Crustaceans
£7.20
Duck with Mixed Vegetables
Soya
£6.95
Duck with Green Pepper in Black Bean Sauce
Soya
£6.95
Duck with Ginger & Spring Onion
£6.95
Lamb with Ginger & Spring Onions
£7.00
Lamb with Green Pepper in Black Bean Sauce
Soya
£7.00
BBQ Pork with Ginger & Spring Onion
£6.55
BBQ Pork with Green Pepper in Black Bean Sauce
Soya
£6.55
BBQ Pork with Mixed Vegetables
Soya
£6.55
BBQ Pork in Chinese Style
£6.55
Squid with Green Pepper in black Bean Sauce
£7.50
Squid with ginger & Spring Onion
£7.50
Mussels with Green Pepper in Black Bean Sauce
£7.50
Mussels with Ginger & Spring Onion
£7.50
King Prawn Omelette
Eggs
Crustaceans
£7.20
Special Omelette
Eggs
Crustaceans
£7.20
Tofu/ Quorn with Szechuan Pepper
Tofu/ Quorn with Szechuan Pepper in Black Bean Sauce
£6.95
Tofu with mixed Vegetable
£6.50
Tofu/ Quorn with Szechuan Sauce
£6.50
Stir Fried Mixed Vegetables
Soya
£5.55
Bean Curd with Green Pepper in Black Bean Sauce
£5.35
House Special Rice (in Gravy) (Large)
Eggs
£6.85
Shredded Duck Fried Rice (Large)
Eggs
£6.85
Special Fried Rice (Large)
Eggs
Crustaceans
£5.65
Chicken Fried Rice (Large)
Eggs
£5.65
Beef Fried Rice (Large)
Eggs
£5.65
BBQ Pork Fried Rice (Large)
Eggs
£5.65
Shrimp Fried Rice (Large)
Eggs
Crustaceans
£5.65
King Prawn Fried Rice (Large)
Eggs
Crustaceans
£6.85
Vegetables Fried Rice (Large)
Eggs
Soya
£5.25
Singapore Fried Rice (Large)
Eggs
£5.65
Egg Fried Rice (Large)
Eggs
£4.15
Mushroom Rice (Large)
Eggs
£5.00
Special Crispy Noodles A. Mixed Seafood
Vegetable with gravy
Cereal containing gluten
£7.35
Special Crispy Noodles B. Mixed Meat
Vegetable with gravy
Cereal containing gluten
£7.35
House Special Chow Mein (in Gravy) (Large)
Cereal containing gluten
Crustaceans
£6.85
Chicken Chow Mein (Large)
Cereal containing gluten
£5.65
Beef Chow Mein (Large)
Cereal containing gluten
£5.65
BBQ Pork Chow Mein (Large)
Cereal containing gluten
£5.65
King Prawn Chow Mein (Large)
Cereal containing gluten
Crustaceans
£6.85
Shrimp Chow Mein (Large)
Cereal containing gluten
Crustaceans
£5.65
Special Chow Mein (Large)
Cereal containing gluten
Crustaceans
£5.65
Shredded Duck Chow Mein (Large)
Cereal containing gluten
£6.85
Vegetable Chow Mein (Large)
Cereal containing gluten
Soya
£5.35
Singapore Chow Mein (Large)
Cereal containing gluten
£5.65
Plain Chow Mein (Large)
Cereal containing gluten
£4.55
Stir Fried Thin Noodles with Bean Sprouts (Large)
Cereal containing gluten
£4.55
Singapore Vermicelli (Large)
Cereal containing gluten
Crustaceans
£6.35
Veg Singapore Vermicelli (Large)
Cereal containing gluten
£5.65
Hofan with Seafood (Large)
Crustaceans
£6.85
Hofan with Mixed Meat (Large)
£6.85
Hofan with King Prawn (Large)
Crustaceans
£6.85
Hofan with Chicken (Large)
£6.35
Hofan with BBQ Pork (Large)
£6.35
Udon with Seafood (Large)
Crustaceans
£6.85
Udon with Mixed Meat (Large)
£6.85
Udon with King Prawn (Large)
Crustaceans
£6.85
Udon with Chicken (Large)
£6.35
Udon with BBQ Pork (Large)
£6.35
Green Curry & Vegetable F. Vegetable
£5.20
Green Curry & Vegetable A. Chicken
£6.60
Green Curry & Vegetable B. Beef
£6.60
Green Curry & Vegetable C. King Prawn
£6.60
Green Curry & Vegetable E. Duck
£6.60
Red Curry & Vegetable F. Vegetable
£5.20
Red Curry & Vegetable A. Chicken
£6.60
Red Curry & Vegetable B. Beef
£6.60
Red Curry & Vegetable C. King Prawn
£6.60
Red Curry & Vegetable E. Duck
£6.60
Plamuek Phad Prig Kratieum
Crispy salt & pepper squid
Sauce is made with garlic, chilli, ginger & sweet basil
£6.80
Koong Phad Prig
Crispy salt & pepper king prawn
Sauce is made with garlic, chilli, ginger & sweet basil
Crustaceans
£6.80
Kai Phad Prig
Stir fried chicken with chilli & cashew nuts
Sauce is made with garlic, chilli, ginger & sweet basil
Nuts
£6.10
Phad Kraphow A. Chicken
Stir fried with garlic, chilli & sweet basil
Sauce is made with garlic, chilli, ginger & sweet basil
£6.10
Phad Kraphow B. Beef
Stir fried with garlic, chilli & sweet basil
Sauce is made with garlic, chilli, ginger & sweet basil
£6.10
Kao Phad
Prawn, chicken with fried rice
Sauce is made with garlic, chilli, ginger & sweet basil
Eggs
Crustaceans
£6.50
Kao Phad Kai (Egg Rice)
Eggs
Sauce is made with garlic, chilli, ginger & sweet basil
£4.50
Phud Lee-Ew
Rice noodles with prawn & chicken
Sauce is made with garlic, chilli, ginger & sweet basil
£6.30
Pad Thai Noodles A. Chicken
Flat rice noodle
Sweet chilli sauce, lemon & peanuts
£6.00
Pad Thai Noodles B. King Prawn (Crustaceans)
Flat rice noodle
Sweet chilli sauce, lemon & peanuts
£7.00
Contact Us
Find Us
153 Essex Road, London, N12SN
We deliver to
E1, E2, E5, E8, E9, EC1A, EC1M, EC1N, EC1R, EC1V, EC1Y, EC2A, EC2M, EC2N, EC2R, EC2V, EC2Y, N1, N16, N19, N1C, N4, N5, N7, NW1, NW5, SW1P, W1T, W1W, WC1A, WC1B, WC1E, WC1H, WC1N, WC1R, WC1V, WC1X, WC2H